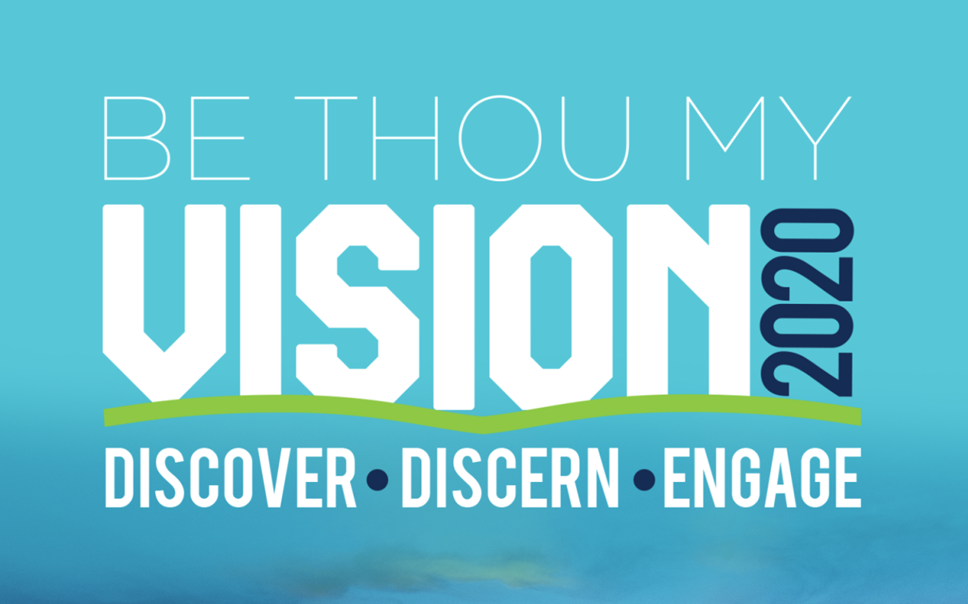 I am reminded of these lyrics from the song, "Day by Day," from the 1972 musical, Godspell: "Oh, dear Lord, three things I pray…to see thee more clearly, love thee more dearly, follow thee more nearly."
Discovery allows us to see God more clearly as we learn more about God's revelation to God's people through Jesus Christ. Through Discernment, we draw closer to Christ in a loving relationship and learn to "hear" God guide us in the choices we make and the directions we travel in our lives. Through Engagement, we follow Christ more "nearly" into his great work of building the Kingdom.
During our Lenten and Easter season this year, we are offering a series of classes that will offer opportunities to move us to deeper places of discipleship as we participate in small group opportunities facilitated by your pastors and some of our highly trained and gifted lay people. These classes are scheduled at different times during the week for your convenience and we believe will appeal to broad interests among our members. Please prayerfully consider where God may be leading you further along in your journey to DISCOVER, DISCERN AND ENGAGE as you embrace a Vision for 2020 this year.
Rev. Laura Parker,
Minister of Discipleship

SCROLL TO BOTTOM FOR ONLINE REGISTRATION FORM
---
WEDNESDAY EVENING CLASSES:
Living into the Answers:
What would Jesus Do?
How do I know what God's will is for me?
As a Christian, how do I know if my decision is what God wants and not just what I want?
We hear these questions often and there are those that are certain of the answers while others quietly struggle within their relationship with God. These questions dance around our understanding of DISCERNMENT. What is Discernment? What is the difference, if any, between discernment and making a decision? "Discernment is paying attention to where God meets us in our human experience. And while it may prompt us to respond in the form of a decision, its primary movement is one of listening." (Andy Otto) The season of Lent gives us the opportunity to explore this topic while we follow Jesus on His own path of discernment. We will utilize the resource, "Living into the Answers: A Workbook for Personal Spiritual Discernment" by Valerie K. Isenhower and Judith A. Todd, along with scripture, prayer, and discussion. Facilitated by Rev. Cheryl Bray. Class size will be limited to 8-12 people and will begin March 4, 6:00-7:15pm and continue through April. Cost of book: $8
Creative Word: Join with Rev. Ontonio Christie in this five-week process of discovery and discernment as you engage the scriptures through reflection, meditation, and the use of art. You don't need to be an artist to attend. Facilitated by Rev. Ontonio Christie. Wednesdays, beginning March 4th, 6:00-7:15 pm. Cost of Materials: $25.
Creation Care: In the Beginning, A Song of Creation:
What is Creation Care? Who practices it?
Where do we encounter it in our Methodist heritage?
How can creation-care practices heal people and bond faith communities?
Each session begins with an invocation, orienting scripture reading, a representative hymn and ends with a collective prayer. Using different parts of the tree-of-life as a metaphor each week, the ecological functions of each part will demonstrate the unity of the inquiry. Summary handouts with links to resources, scripture, hymn audios, and further readings will be handed out in advance each week for the following session; the format is conversational. Facilitated by Ran Nisbett. Begins Wednesday, March 11th for 6 sessions, 6:00-7:15 pm, ending on Earth Day, April 22nd.
OTHER OFFERINGS THROUGHOUT THE WEEK:
Discernment: A book study by Henry Nouwen.
The premise of this book is that God is always speaking to us—individually and as the people of God. Discernment is the spiritual practice that accesses and seeks to understand what God is trying to say. Facilitated by Rev. Laura Parker. Begins Monday, March 2nd, 10:30-11:45 am for 5 sessions. Cost of book: $12.
PLEASE NOTE: THE DISCERNMENT CLASS IS NOW FULL! Contact the church office if you would like to be added to a wait list, 251-928-1148
Gifted2Serve: A Unique Way to Discover Your Spiritual Gifts and Pathway to Service. This two-part class will guide you through a journey of self-discovery using an assessment tool that uncovers your unique personality traits and the innate spiritual gifts God has given you. An individual consultation will be provided upon completion of the class. Facilitated by Michele Manasco, PhD, assisted by Katie Turner and Rev. Laura Parker. Classes will be held on Tuesdays, March 10th and 17th from 6-8:00 pm. Participants must register by March 4th, so that you will have time to complete an on-line assessment prior to the first class.
Focus on Prayer: A Means of Seeking a More Intimate Presence with God. Prayer is an incredible gift from God that allows us amazing access in our relationship with Christ. What better place to journey into Discovery and Discernment? These six-sessions will be discussion based with a moderate amount of outside reading. Facilitated by Nancy Dumas. Begins Thursday,
March 12th, 10:00-11:30 am. Class is limited to 7-12 participants.
On the Road with St. Augustine: A Real-World Spirituality for Restless Hearts:
A book study by James K.A. Smith. As the author describes his own work, "this is not a book about Saint Augustine. In a way, it's a book Augustine has written about each of us...(He) is the patron saint of restless hearts--a guide who has been there, asked our questions, and knows our frustrations and failed pursuits. Augustine spent a lifetime searching for his heart's true home, and he can help us find our way." Facilitated by Dr. Darren McClellan. Begins Friday, February 28th, at 1 pm and will be open-ended depending upon the desires of the group. Cost of book: $18
---
Facilitators for our Lent and Easter Offerings:
Rev. Cheryl Bray, facilitating "Living into the Answers," is an ordained Deacon in the AWF Conference and has been a member of Fairhope UMC since 1999. The owner of Bray Counseling Services in Daphne, Rev. Bray is a Licensed Professional Counselor in Alabama, a Licensed Mental Health Counselor in Florida and supervises counselors in training. She is currently enrolled at Spring Hill College in the Spiritual Direction Training Program, and upon completion, will be a Certified Spiritual Director.
Facilitating our "Focus on Prayer" is Nancy Dumas, a relatively new member of Fairhope UMC, who moved here to be close to family after the loss of her husband. She has an MA degree in Spiritual Formation from Asbury Theological Seminary and serves on the Board of Trustees for that institution. She holds a Certificate in Spiritual Direction from the Archdiocesan of New Orleans Spirituality Center, and is currently studying at Creighton University Christian Spirituality Program: Spiritual Direction.
Dr. Richard A. "Ran" Nisbett will be leading our "Creation Care" class. Ran earned a PhD in Anthropology and MSPH in the Infectious Diseases of Poverty. He has worked extensively beyond the end of the road on tropical community ecology, biodiversity conservation and tropical community health in a half-dozen countries in Africa, the Circum-Caribbean and Southeast Asia. Ran has partnered with diverse faith communities and organizations, particularly African
Methodists and the Liberian Annual Conference. After living in Liberia and working the West African Ebola Epidemic with Methodist colleagues in 2013-2014, he retired to Fairhope with his wife Nancy in 2017. Since 2019, he has been a Resident Fellow of the Sewanee School of Theology focusing on creation care initiatives.
We are excited to offer our Gifted2Serve class again this Spring, led once again by Dr. Michele Manasco and Katie Turner. Michelle obtained her Ph.D. in 1998 from the University of Alabama in the field of Industrial/Organizational Psychology, an M.A. in Health Studies from the University of Alabama and a B.S. from Samford University in Birmingham. For over 20 years, she has assisted individuals and corporations through transition. She has expertise in the areas of college advising, career coaching, change management and employee selection. Katie has her B.S. from University of Alabama and is a published writer and blogger. Her blog, fourundertwo.blog chronicles her experiences parenting identical triplets and a daughter under two years old. She is a trained Stephen Minister and leads a small group at Homestead Village. Rev. Parker will assist in this class as well.
We are excited about the line-up of talented and gifted facilitators we have assembled for our Spring offerings. Along with your pastors, Dr. Darren McClellan, Rev. Laura Parker and Rev. Ontonio Christie, they look forward to spending time with you this Spring as you commit yourself to a time of Discovery, Discernment and Engagement!