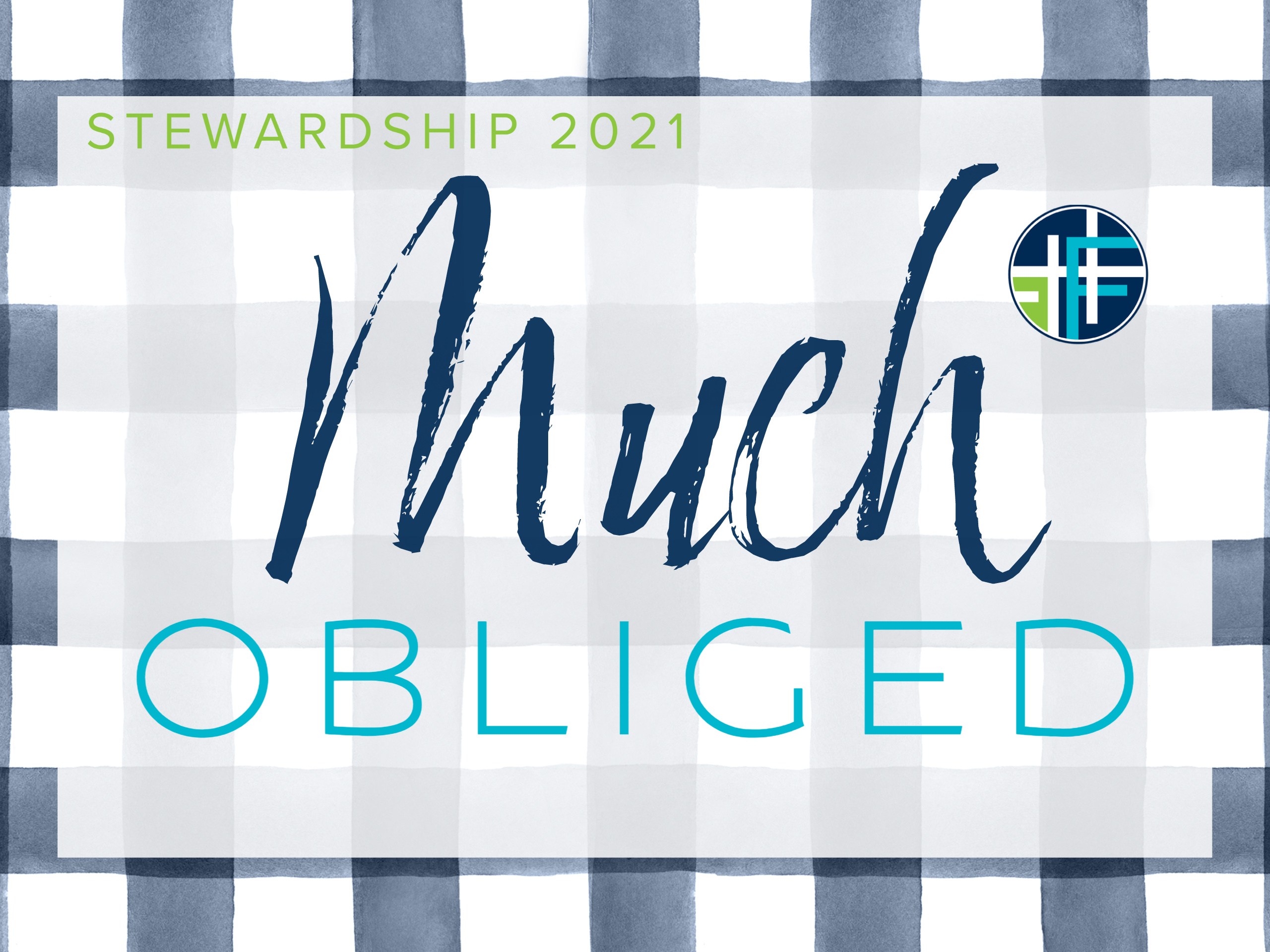 Dear Friends,
In keeping with our church's vision to "love boldly, casting the light of Jesus into the world" we are pleased to share the folowingn material with information about our ministry plans for 2022.
As we engage the question of our personal stewardship of God's gifts to us, and what our use of those gifts might tell us about our own faith and discipleship in Christ, our theme for the conversation this year will be a playful use of the Southern expression, "Much Obliged."
As asked this past Sunday, what comes to mind for you when you hear this phrase? Does it sound common or courteous? Do you hear it as heartfelt, or heavy-handed? What happens when you add "Ma'am" or "Mister" to it? Do you picture John Wayne, Jed Clampett, or perhaps the memory of someone in your own family?
To be clear, we understand much obliged as another way of communicating a deep sense of gratitude for the generosity of another. It is a way of saying "thank you" or "wow! I really owe you one." Yes, there is an element of duty, but also devotion. It is not a coercive matter of "have to," but an inspired expression of "want to" for the sake of a higher love. Most importantly, it reflects our sense of genuine indebtedness that is rooted in our glad reception of the extraordinary gifts of God.
In Captain Stormfield's Visit to Heaven, Mark Twain describes the moment when a certain man is standing before an angelic clerk, trying to understand the means of his admittance and the exact route to his heavenly rest. After receiving his orders to proceed, the captain responds, "I'm much obliged…(but) why didn't you dart me through when I first arrived?"
The clerical servant replies, "We have a good deal to think of here; it was your place to think of it and ask for it." At that point in Twain's story, the sailor gets on board. Finally, once he makes the move from customer to citizen, a loud voice is heard, singing, "A harp and a hymn-book, pair of wings and a halo, size 13, for Cap'n Eli Stormfield, of San Francisco! - make him out a clean bill of health, and let him in."
This is amazing grace! In light of all that God has done to provide for us, how could we not respond to this incredible generosity? Are we, too, much obliged…and if yes, then how so?
We look forward to diving in to these questions together in this season of intentional learning and discernment. We pray that it will be a time of growth for Fairhope United Methodist Church, and that God will be most glorified through our conversation and response.
Elizabeth Hammock, Stewardship Co-Chair
Bo Blackwell, Stewardship Co-Chair
Dr. Darren M. McClellan, Senior Pastor
---
Thank you for taking the opportunity to submit your pledge toward the 2022 Ministry Plan of Fairhope UMC online. If you have questions or would like further assistance, please contact Jeff White, Business Adminstrator by email, or call the church office, 251-928-1148
Submit Estimate of Giving card here
Download the Stewardship Mailer here
---
STEWARDSHIP IMPORTANT DATES
October 10 "…to Faith" October 10 "…to Faith"
Dr. Darren McClellan (Sanctuary) | Rev. Laura Parker (Gathering)

October 17 "…to Gratitude"
Dr. Darren McClellan/Rev. Ontonio Christie (Sanctuary) | Dr. Darren McClellan (Gathering)

We welcome our special guest, Dr. Blake Horne, President/CEO of the United Methodist Children's Home—Embrace Alabama Kids.

October 24 "…to Availability"
Rev. Laura Parker (Sanctuary) | Dr. Darren McClellan (Gathering)

October 31 "…to Participation"
8:30 - Dr. Darren McClellan | SERVE DAY!

All are invited to gather in front of the CLC at 10:30 for a time of devotion and deployment in service to our community. There will be projects for all ages, some on campus and others beyond our walls. If you are aware of a service opportunityfor this day, or are ready to help lead a team, please contact Missions Director Jennifer Myrick, Caring Ministries Director Ann Pearson, or one of the pastors.

November 7 "What Is In a Name?"
Dr. Darren McClellan (Sanctuary) | Rev. Laura Parker (Gathering)

On this All Saints Sunday, we will be remembering the lives of those in our congregation who have finished their course in faith in the past year, and gathering around the Lord's Table for Holy Communion.

November 14 "Honor Day"
Dr. Darren McClellan (8:30 Sanctuary) Dr. Darren McClellan (Combined Service in the Christian Life Center)

This is a day of celebration! On this day, we will offer our thanksgiving for the honorable service and sacrifice of our Veterans, we will honor our future as we recognize the new babies in our congregation over the last year, and we will honor our own commitment to God and each other through the consecration of our financial pledge for 2022. Dinner on the grounds will follow immediately after the 11:00 service.It will be a glorious day!
---

MINISTRY BUDGET PLAN CHART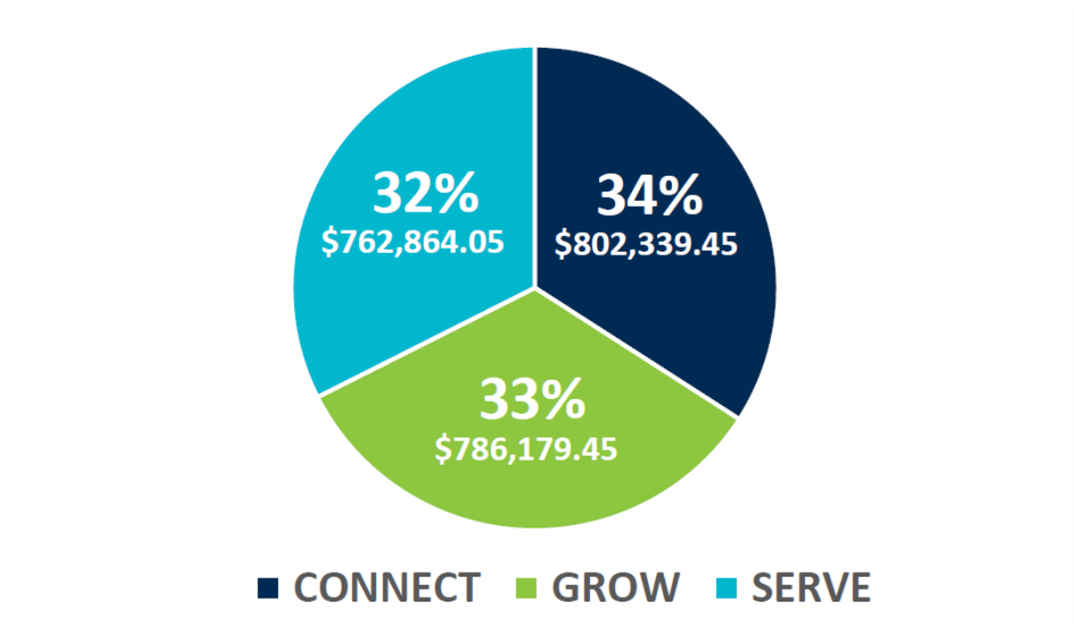 ---
NARRATIVE BUDGET PLAN COMAPARISON (2021 VS 2022)