January 04, 2022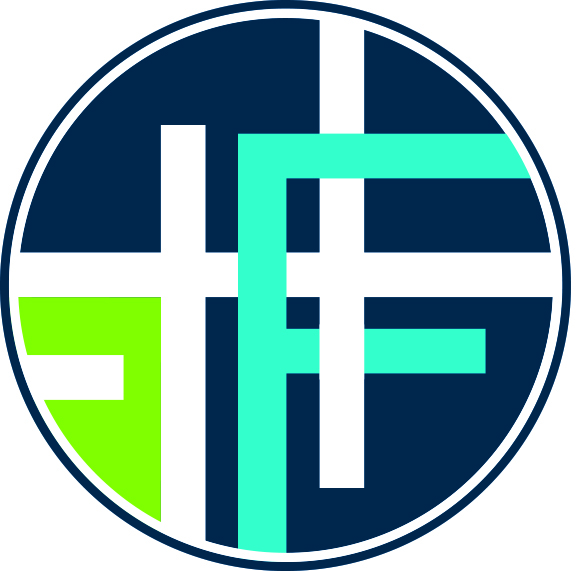 Wednesday Night Suppers
Served weekly from 5:00 pm to 6:00 pm.
Cost: $5 Adults & Youth | $4 Children (Family Max $20)
Join us for a mid-week meal on Wednesdays! Let us know you are coming...call the church office by Tuesdays at noon, 251-928-1148 or register using the link button below:
Wednesday Night Supper Reservations
---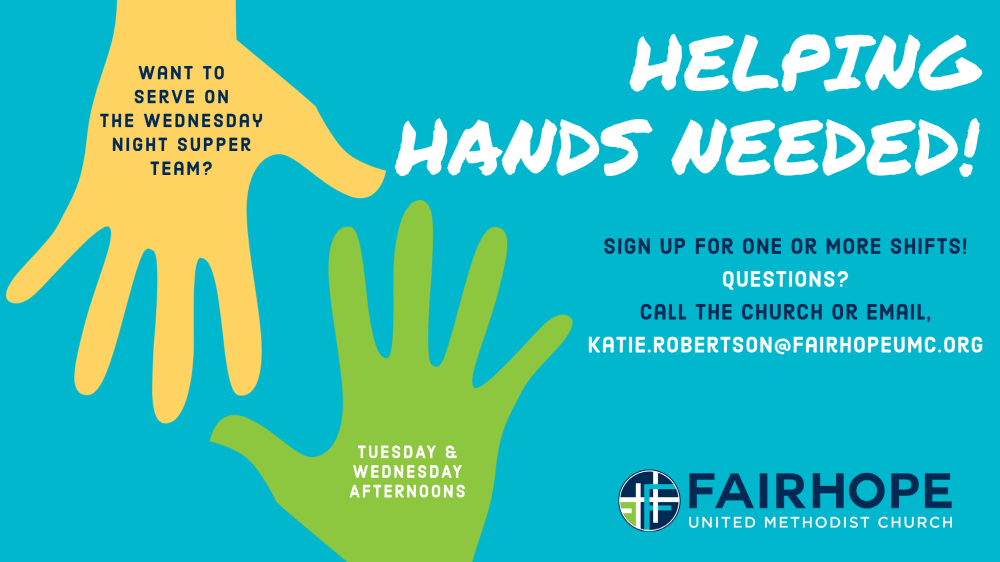 Looking for a place to get connected and serve? We need YOU to be a part of the Wednesday Night Supper Team!
Join Katie in the kitchen and help prep, cook or clean up! Choose a day and time using this link:


---
Adult Discipleship
Classes available on Wednesdays:
"Pastor's Class" UMC 101
All are invited to join Pastor Darren for an interactive Bible study and discussion of the historic theology, beliefs, and mission of the United Methodist Church. Begins September 15th in the Fellowship Hall immediately following supper. Wednesdays, 6:10-7:10 pm. Books may be offered but will be optional. No registration necessary.
Please note: Nursery can be provided upon request for children 4 years and under.
---
Adult Choir
Fairhope UMC's Choir is made up of adults age 16 and above who seek to glorify God through music, in worship, and in supporting, caring and praying for one another in Christian love. They rehearse each Wednesday from 6:30 pm – 8:00 pm in the choir room B203. Sunday morning rehearsals begin at 10:35 am prior to the worship service. The Choir provides music each Sunday and presents special musical worship services at Christmas and Easter.

For more info, contact Tom Hood, Director of Music Ministries. phone: 251-928-1148, ext. 228 | email:
---
Student Ministries
Wednesdays @ 6:30-7:45pm
7th-12th grade
Community Groups are for students in grades 7-12. We provide an opportunity for every person committed to attending C-Groups to grow deeper in their faith and to find a community of believers their age to support & pray for them. Every C-Group will have 2 adults committed to walking this faith journey with them. Our C-Groups launch on Wednesday, September 1st @ 6:30-7:45pm. 10-12 grade C-Groups will meet off campus every Wednesday in a Host Home with their adult small group leaders. 7-9 grade C-Groups will meet on campus upstairs in the CLC. Sign-up is now open for the 2021-22 school year.
---
Children's Ministries
Our Wednesday night programs for the 2021-2022 school year begin on September 15 and offer kids the opportunity to
WORSHIP God through music and song, study God's WORD to strengthen their growing faith, and WONDER how it all applies to their daily lives.
As children connect with one another and participate in fun, meaningful activities, adult leaders guide and encourage them to draw closer to Jesus – to know Him, trust Him and follow His example of love, forgiveness and compassion for others.
Children's Choir: K-6th

grade
* 4:15-5:00pm, meets in the PIER Room, 2nd Floor, Ed Bldg.
* pre-registration is greatly appreciated (the link to online registration is below)
* Children will enjoy learning a wealth of worship music which will be sung in various Sunday services.
SWIFT: 5th

& 6th

grade
* 6:00-7:30pm in CLC, 2nd floor, Attic
* pre-registration is greatly appreciated (the link to online registration is below)
* Students will learn and know how it feels to own their faith. Each week they grapple with a specific question about faith, relationships and choices and search God's Word for answers. This group engages in large and small group discussions, mission projects, free-play in the gym and social get-togethers!
Pier: K-2nd

grade & Pier 34
* 6:00-7:15pm in Ed Bldg, 1st floor, Wesley Hall
Register below!
Contact Tom Hood for questions regarding children's choir and Jenna Hood for questions regarding Pier, Pier34 and SWIFT. Both can be reached at 928-1148.