Nursery Ministries for Infants & Toddlers
NURSERY
Our nursery is open on Sunday mornings during the three worship services and during Sunday School. Reservations are not required. An electronic sign-in system is in place.
Children ages 3-17 months are invited into the "Baby Room" #123. Children ages 18 months – 4 years are welcome in the "Toddler Room" #127 on the Nursery Wing of the Education Building.
In an effort to reduce the spread of germs, nursery staff will sanitize toys at the end of each day. Please help us by clearly labeling any cup, bottle or pacifier that comes into nursery with your child.
Should you have any questions, please direct them to Tina Wettermark, Director of Nursery Ministries, at .
Nursery is available for infants 3 months of age and toddlers through age PK4 years on Sundays, Wednesday nights and for special meetings and programs that require care for infants and young children.
Our Nursery is staffed with loving and caring nursery workers who are CPR trained and eager to make your child's experience at Fairhope United Methodist Church a secure and happy one.
Reservation Nursery
A ministry for parents of children 6 months - 3 years of age, meets each Friday from 9:30am - 1pm. Reservations are made on a monthly basis. For more information or to make reservations please contact Tina Wettermark,
928-1148, ext. 234 or .
*Reservations are required at least 48 hours in advance by email to . Cancellations may be sent via email. Thank you for aiding us in providing a well-staffed and safe nursery environment for your precious children.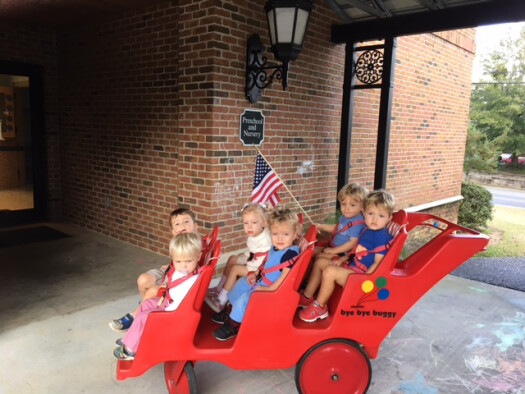 ---